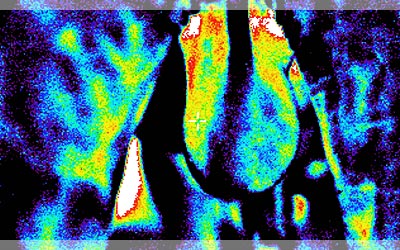 Imagem da termografia testicular, indicando as áreas com maior e menor temperatura testicular.
More certainty in the reproductive results
The andrology also was benefited from the biotechnological development. The andrology exams of the reproducers, when carried out accurately, demonstrate the reproductive status of the males. For the accomplishment of these exams, the Vet has to take in account the nutritional, sanitary and reproductive handling of the male, the physical and clinical specific exams and the semen analysis. Currently, in the andrology exams also takes part the analysis of the reproducer potential of fecundity, using the in vitro fertilization.

Therefore the accomplishment of the andrology exams in the reproducers that will participate in programs of riding season is obligatory. These exams are also requested for reproducers that are being commercialized and that participate in judgments in expositions.

BIO has a technical team enabled to accomplish not only the classic andrology exams, but also modern techniques capable to identify to pathologies associated to spermatogenesis and infertility of the male.