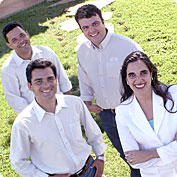 Description
Inaugurated in 2001, BIO Laboratory offers services and consultancy in animal reproduction programs to the animal productive sector.

Therefore, it possesses a modern laboratory to the embryo production by in vitro technique, which works with indices of productivity inside of the parameters established in the market.

One of the great differentials that BIO Laboratory offers is the biggest ratio of females born through the in vitro fertilization technique, between 45% and 50%, proven by more than 2,000 embryonic sex detections, using the PCR technique, carried out until September 2002.

These results are proved in the routine of work developed by the BIO technical team. In the last 14 months (August/2005 to August/2006), BIO produced more than 9,000 pregnancies, of which 46.8% of the embryos had their sexes detected as female.

Another differential that deserves remark is that according to the protocol established by BIO Laboratory, the animals are born with normal weight, with no cases of "gigantism", which is typical in calves born through IVF. This protocol also diminishes the number of stillborns and abortions in the end of the gestation.

But the factor that BIO Laboratory considers essential to obtain the best results in the farm where provides services is the direct contact among all the BIO technical team and the creators and people responsible for these properties. Knowing the reproductive history of each donor and following their reproductive life is what make possible to trace an action plan that aims at getting the best indices of production preserving the reproductive integrity of the animals.

Currently, BIO Laboratory acts in important farms in Brazil, located in different states and regions, where it provides services of in vitro fertilization (IVF) and embryos transference (ET).

In the United States, BIO Laboratory possesses customers whom provides embryos transfer (ET) and cryopreservation services for Senepol breed for exportation. Nowadays, there are calves born through this work in Australia, New Zealand, Central America, in the Caribbean and in South America, and, of course, in the United States.. .