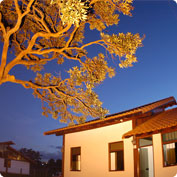 Company
BIO - Animal Biotechnology, established in the end of the 1990's, arose with the incredible advance in the results of the researches in biotechnology and with the viability of the veterinary medicine.

Idealized by five veterinarians, specialized in Animal Reproduction and Cellular Biology, BIO grew and consolidated in the market because believes in the perfect balance between the productive improvement and animal health.

The constant interactivity and the co-commitment for better results are the guarantee of our success and of the solidification of the relationship between BIO and its customers.

One of the first ones to develop the technique of in vitro fertilization in Latin America, the company possesses highly qualified veterinarians, who cover all over Brazil.